First Nations Indigenous Ministries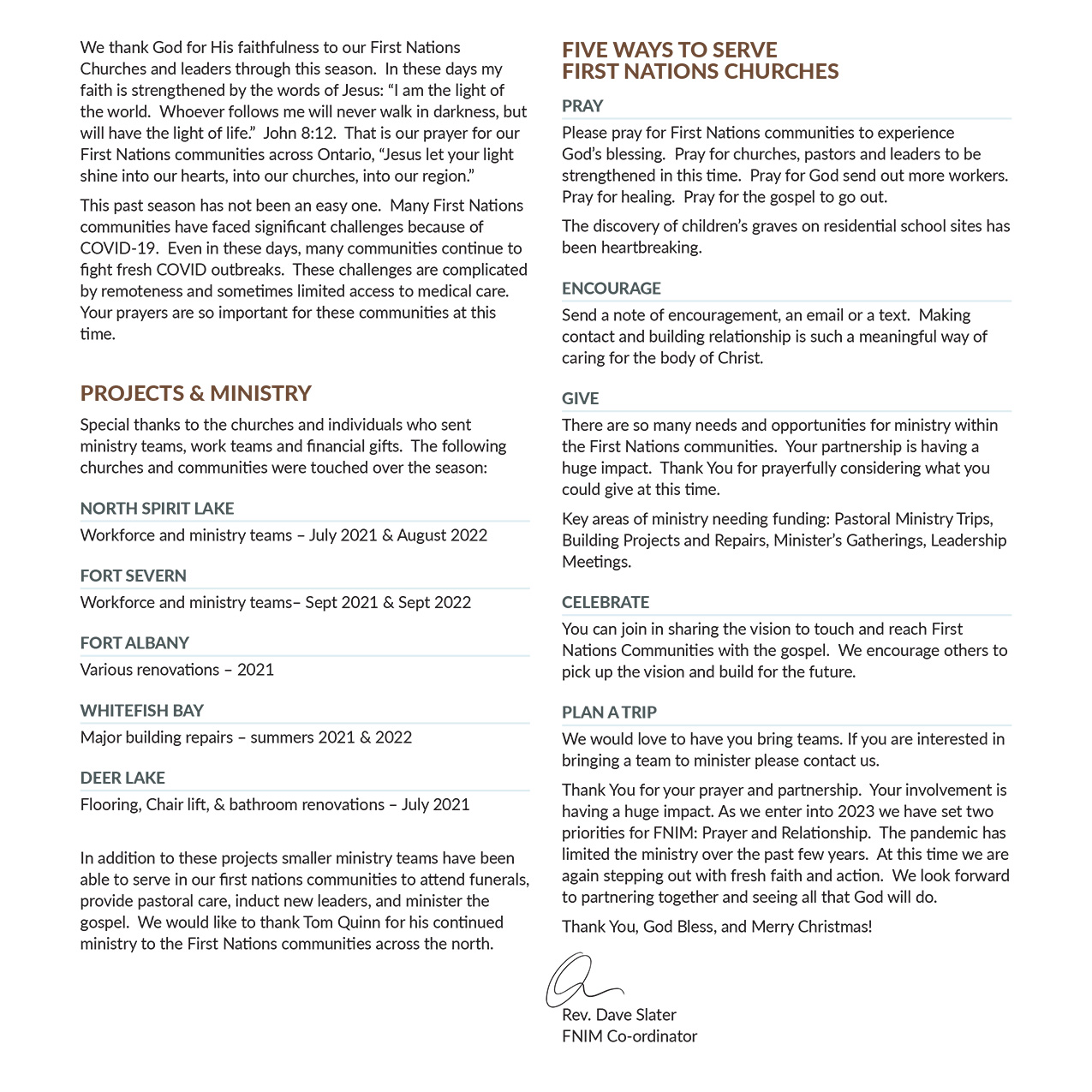 First Nations Indigenous Ministries is a specific ministry of the Western Ontario District of the Pentecostal Assemblies of Canada.  It was first formed in the 1950s as Ontario Northland Mission, then in the 1990s it became Aboriginal Pentecostal Ministries.
We seek to support pastors called to minister to our First Nations Indigenous people and communities, and to provide support and fellowship to all those doing the work of Christ in remote places such as fly-in reserves. We want to fight poverty, addiction, and systemic racism and bring hope to every person in the name of Jesus.  We do this by partnering with ministry and work crews from churches all across Ontario to build churches and pastors' homes, and to help with community outreach ministries in these First Nations communities.  We continue to shine the light of Jesus through building relationships with local leaders and supporting those committed to bringing the gospel.
We hope you'll pray for us, get involved, volunteer, and support this ministry with your generous financial gifts. Monies donated and received through Western Ontario District or specifically through First Nations Indigenous Ministries go directly to support ministry to First Nations people on reserves and in our cities.  First Nations Indigenous Ministries raises funds for First Nations Indigenous leadership conferences, Christian teaching resources, church building construction, and the ministry to the pastors and lay leaders in our twenty-three churches located mostly in Northern Ontario.
| | | | | |
| --- | --- | --- | --- | --- |
| Community | Church Name | Pastor | Geographic Designation | |
| Fort Severn | Pentecostal Assembly | | | |
| Wunnumin Lake | Lighthouse Pentecostal | Simon Winnepetonga | | |
| Weagamow Lake | New Life Pentecostal Assembly | Colin Kanate | | |
| Deer Lake | Pentecostal Harvest Church | James Jeffries | FNIM West | |
| Sachigo Lake | Emmanuel Pentecostal Church | Albert McKay | FNIM West | |
| Sandy Lake | Thomas Harper Memorial Pentecostal | Allan Rae | FNIM West | |
| Whitefish Bay | Whitefish Bay Church | Pam Capay | | |
| Cat Lake | Northern Lights Community Church | Jonathan Larsh | FNIM West | |
| North Spirit Lake | Harvest Time Church | Jake Kakegamic/Penina Massan | FNIM West | |
| Sioux Lookout | New Life Assembly | Mark Barrett | FNIM West | |
| Gogama | Mattagami Full Gospel Centre | Carol Gagnon | | |
| Timmins | Crossroads Church Fellowship | Robert Linklater | | |
| Cochrane | | Ernie Linklater | | |
| Moosonee | Moosonee Pentecostal Assembly | Alex Gunner | FNIM East | |
| Moose Factory | Moose Factory Tabernacle | | FNIM East | |
| Fort Albany | Fort Albany Pentecostal Church | Michel Sutherland | FNIM East | |
| Kasechewan | Kasechwan Faith Temple | Elkina Hughie | FNIM East | |
| Attawapiskat | Attawapiskat Pentecostal Church | Stephen Stoney | FNIM East | |
| Toronto | Aboriginal Believer's Church | Levi Beardy | | |