Lead Pastor – Bethel Pentecostal Church
Community: Wallaceburg, ON
Position Hiring: Lead Pastor
Church Website: bethelwallaceburg.com
Social Media: Facebook
Download the full job description: HERE
JOB DESCRIPTION HIGHLIGHTS
Bethel Pentecostal Church is seeking a:
Strong visionary leader who is relationally connected to the members of the congregation. Ideally
the candidate will have musical gifting, a strong love and knowledge of the Word with an ability to
deliver inspiring and creative messages on a regular basis.
LEADERSHIP EXPECTATIONS
Education
While a Bachelor of Theology (or equiv) is preferred, consideration will be given to candidates with a minimum of a diploma/degree in Biblical Studies
Credentials
Candidate must have an active PAOC credential or able to be credentialed
Ministry Experience
Demonstrated history of faithful ministry experience (5 years minimum preferred), including successful leader of multiple staff within a growing church.
MISSION
Save, Equip, and Send
VISION
Connecting people to Jesus and to each other.
CORE VALUES
At Bethel we love to see people of all ages come to a more in-depth understanding of our Saviour Jesus Christ.
We love helping people to get into smaller settings where there is more freedom to connect, ask questions, serve and have fun.
Our Story
The first gathering of Pentecostals in Wallaceburg took place on March 4,
1928 in a second floor meeting room of the old post office on Duncan
Street, just south of the Wallaceburg Municipal Building. Three years later,
with the congregation increasing, the Latter Day Saint building on Herbert
Street was used until 1946. A decision was made by the congregation to
build a new church on the corner of Gillard and Minnie Streets. After
suffering some initial difficulty, Rev. A. 0 . Routley, his son David and many
of the parishioners saw the building to completion when the cornerstone
was laid in 194 7 with the official opening in March of 1948. By 1962 a
manse was built for the pastor on McNaughton Avenue on a large piece of
land suitable for eventual erection of a church building. By 1966 a beautiful
new Bethel Tabernacle was impressively set on McNaughton Avenue. in
1980 the facility was expanded to accommodate the continued growth.
Today the church remains at that location on McNaughton Ave. and is
active in the community through various ministries and outreach.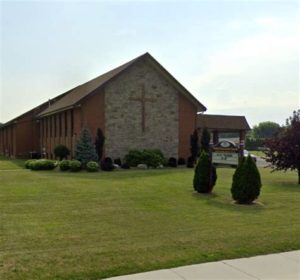 Ministries
Bible Studies / Small Groups
Alpha Program
Sunday School
Youth Ministry
Junior High Ministry
Kids Club
Community Meals
Sunday Services
Community Outreach (BBQ's, etc…)
Staff and Key Leaders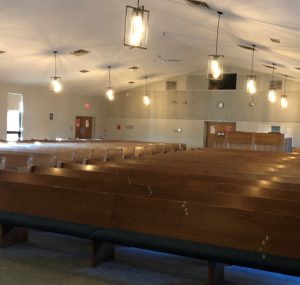 The youth ministry is led by Pastor Geoffrey Neuman, who serves the
congregation in a a full-time capacity. Rev. Gary Winsor retired to
Wallaceburg after serving on the mission field and in many churches. He
was hired part-time to the role of Connections Pastor. The church also
employees a part-time custodian and a part-time office administrator. The
Board of Directors is composed of five members. Many of the ministries of
the church are led by volunteers who are an integral part of the work in
Wallaceburg
Demographics
With approximately 200 adherents we average about 120 in our Sunday morning services

Community Bio
Wallaceburg has a population of 10,323 and is part of the greater
municipality of Chatham-Kent. Chatham-Kent is a close-knit community
with a rare blend of rural living with big-city amenities. In many ways,
Chatham-Kent offers the best of everything including a low cost of living
compared to other municipalities in South Western Ontario.
Schools
Wallaceburg is home to an International Private School, Public and
Catholic elementary schools, a private Christian School and a Public High
School. Wallaceburg is centrally located to two colleges. Lambton College
in Sarnia, and St. Clair College in Chatham.
Shopping, services, conveniences
A Walmart Superstore, and other smaller retail and grocery stores are
located within the community. Wallaceburg is located in close proximity to
major shopping retailers in London, Sarnia, Windsor and the United States.
Distance from major centres
Wallaceburg is centrally located to London, Windsor and Sarnia, all major
centres. Additionally, it is conveniently located close to a few border
crossings making trips to the U.S.A. a regular occurrence for many locals.
Sports, recreation, outdoor activities in the community
Chatham-Kent Recreation provides many sporting opportunities. Public
pools, arenas, splash pads, soccer and much more. Wallaceburg has its
own athletic association, and a great variety of parks, many of which are
ideally located along some of the waterways in this region. The beautiful
beaches of the great lakes are within driving distance of this community.