Communications Coordinator - Masters College and Seminary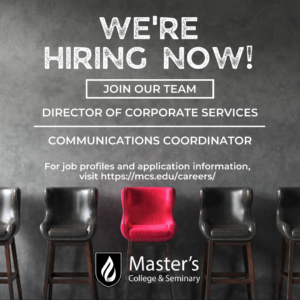 Are you interested in being part of a team responsible for shaping the hearts and minds of the next generation of Pentecostal leaders? Do you have a passion for the mission and vision of Master's College and Seminary?
Master's is seeking to fill the role of Communications Coordinator. Qualified applicants are invited to submit a cover letter, CV/resume, and a statement of faith to Rich Janes (rich.janes@mcs.edu) no later than May 18, 2022. Review of applications will begin immediately, with an anticipated start-date for these positions of June 1, 2022.